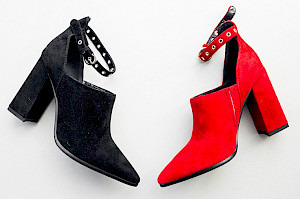 women4women dlr invites you to a special Lunchtime Disco "Dancing In Her Shoes" at the DLR Lexicon to mark 1st Anniversary of Freeda Service.
This is in aid of the Freeda services and they cost only €5. You can book them in advance at EventBrite page or buy them at the door.
Dancing in Her Shoes Campaign 2017 - Dance Against Abuse!
The 16 Days of Activism against gender-based violence is a global campaign to challenge "Violence Against Women and Girls". It runs every year from the 25th of November, the International Day for the Elimination of Violence against Women, to the 10th of December, Human Rights Day.
Freeda is supporting women against domestic abuse and is celebrating it's 1st year by launching a "Dancing in Her Shoes" campaign 2017.
Dancing brings people together and we aim to bring our community together to help stop domestic abuse, assisting women to stand up for themselves, to uplift and inspire. We'll be raising awareness by "Combining Doing Something Good with Something that Makes You Feel Good" by organising a lunchtime 80's/90's Disco. Freeda wants to promote positive vibes, positive energy, and positive change!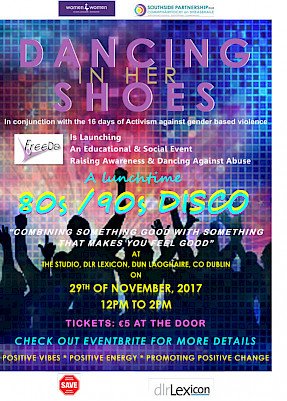 The idea is to bring the community together in a unique and creative way using music and dance to share a moment of happiness and positive vibes, while at the same time raising awareness of domestic abuse. This campaign aims to empower women and promote positive change. We would like to invite all local services and local people to drop in and dance against domestic abuse. It has been proven that dancing has a positive effect on a person's mental health, "When one dances, one's brain is both stimulated by the sound of the music and by the dance movements themselves", therefore feeling upbeat and ultimately it's efficacious in encouraging optimism. Freeda's aim is to promote positive change.
Our Objective
Raise awareness of domestic abuse in the DLR region

Encourage people to talk about it in a friendly happy atmosphere

Promote mental and physical health

Empower women to make better choices

Attract more attention and bring people together by having fun dancing

Promote Freeda and celebrate its 1st year anniversary