The Southside Partnership Women's Programme is offering a Job Seeker Skills Workshop for women in the DLR county.
This workshop is part of the REPOWER Programme (Recruiting, Empowering and Progressing Opportunities for Women's Equal Rights). On 5 mornings in June we are offering a workshop for women wanting to develop their job seeking skills.
When: 19th and 20th June, 22nd and 23rd June, 27th June
from 9.30am - 12.30pm
Where: Mounttown Community Facilities
Meadowlands, Fitzgerald Park, Lower Mounttown Rd
Dun Laoghaire
For whom: This free workshop is open to all women who are not in receipt of Job Seeker payment.
Workshop Content: Personal Awareness Foundation - getting to know your strength, your skills and competencies to write your CV
(Identify, describe , extract, evaluate)
For more information and to register interest please contact Marilyn Nyquist on 01 7060100 or 087 2198183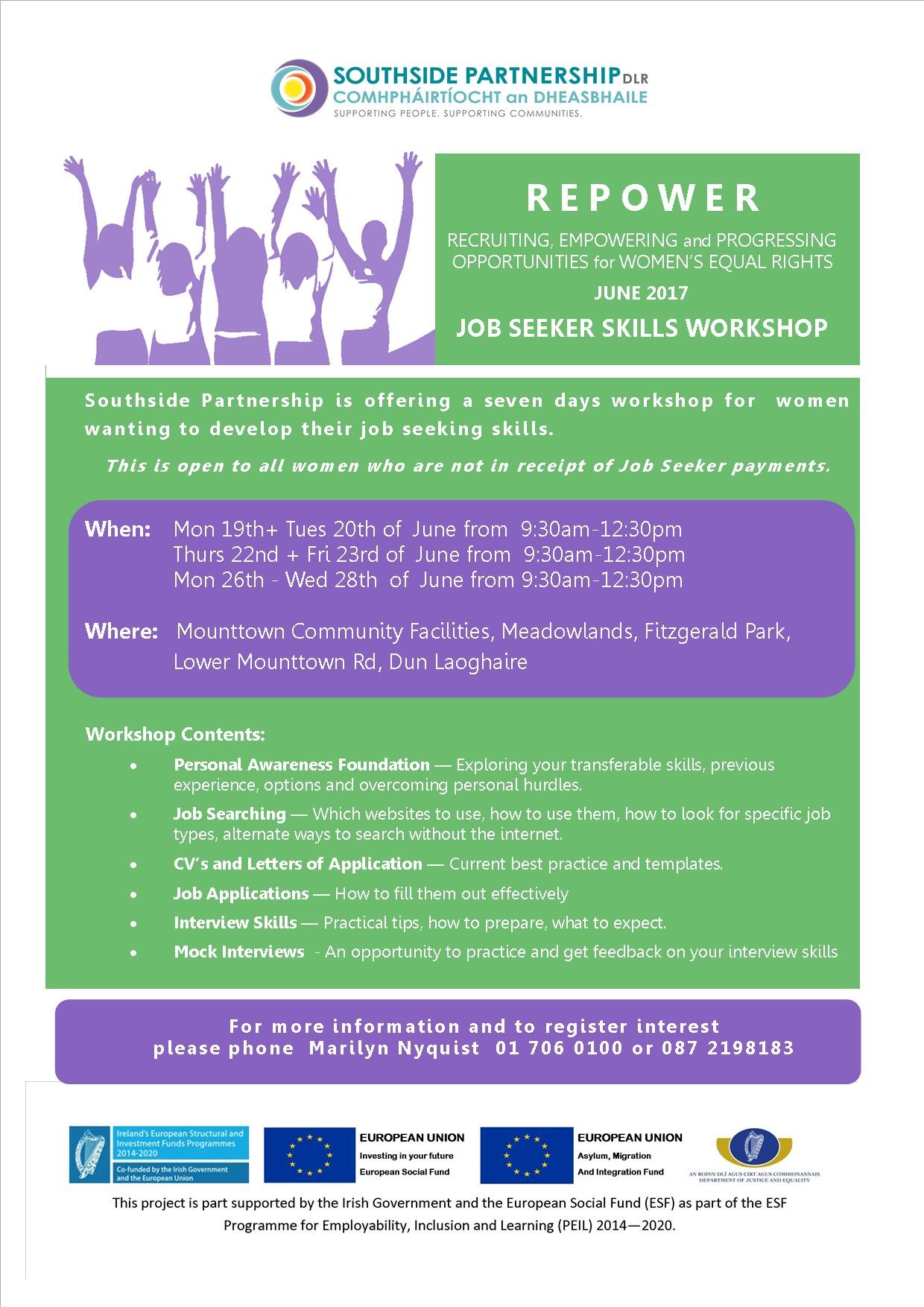 REPOWER Programme:
This 3 year programme is supported by Department of Justice and Equality and European Social Fund.
A range of courses, workshops and support will be available to women in different parts of the DLR county.
The following will be offered:
Personal Development and Basic Computer
Employability Skills QQI Level 4 (minor modules)
Advanced Computer
Networking Opportunities
Personal Support
This programme is open to women who are

not

in receipt of Job Seeker payments. Women on Job Seeker Payments can avail of the Local Employment Service.