New Women's Programme January – June 2017
Free English Language and Communication Courses:

Mondays 10 – 11.30am, Park House Dun Laoghaire, starting on 30th January
Tuesdays 9.30 – 11am, Sandyford Community Centre, starting on 31st January (subject to room availability)
Wednesdays 9.30 – 11am, Ballyogan Samual Beckett Civic Centre, starting on 1st February
Thursdays 9.45 – 11.15am, Rosemount FRC, starting on 2nd February
Please call Marese on 01 442 1004 for more information
REPOWER Programme

This is a free new part-time programme of 3 modules to women who are interested in developing new skills and increasing their confidence:
Communication QQI Level 4 (subject to funding from ETB)
Computer Skills
Personal Development
Start of the programme is 1st March,
Wed, Thurs, Fri mornings
Please call Marilyn on 01 442 1004 or call 087 6128740

International Women's Breakfast Spring 2017
8th March in Marlay House, Marlay Park to celebrate International Women's Day

26th April in ICCI in Clonskeagh
We also offer a range of courses in Furry Hill Community Centre, Furry Hill Estate, off Sandyford Road, Sandyford, Dublin 16
Basic Machine Sewing,
Tuesdays from 10am – 12pm, starting 31st January 2017
Healthy Food Made Easy
Thursdays from 9.45am – 12pm, 6 sessions, starting on 2nd March
still places left
Gardening for Small Spaces
Fridays from 11.15am – 1pm starting after Easter subject to funding from ETB
Priority for those courses will be given to local residence
To register for the courses please call the Women's Programme/women4women network on
01 442 1004 or 087 6128740
New Women's Programme starts in September/October 2016
women4women network and Southside Partnership Women's Programme are planning a new programme for women in Sept/Oct (subject to funding)
free English and Communication Classes
– Dun Laoghaire
Park House, Library Road
Starts  Monday 19th October
Mondays 9.30am – 11am- Ballyogan
– Ballyogan Community Centre
Starts Wednesday 21st September
Wednesdays 9.30am – 11am
– Sandyford
Sandyford Community Centre, Lambscross
starts Friday 23rd September
Fridays 9.30am – 11am-
- Dundrum
Rosemount Resource Centre
starts Thursday 29th September
Thursdays 9.30am - 11am
To register please contact Marese  or Daniela on 01 7060100 or 087 6128740
Crafts Class in Dun Laoghaire, Park House, Library Road
starts Monday 3rd October from 11.30 am – 1pm
Second Chance Education  – Women in Lifelong Learning,
Dun Laoghaire
This free 10 weeks interactive Programme is specially designed for women to develop new skills, increase confidence and support career planning in preparation to return to education, training and employment.  Focus will be on Personal Development and Basic Computer Skills.
When: starting 28th Sept, 10 weeks (mid-term break)
Wednesdays, Thursdays and Fridays
9.30am – 12.30pm
Where: Mounttown, Meadowlands Fitzgerald Park
Lower Mounttown Rd
Dun Laoghaire
Tutor:      Marilyn NyquistFor more information and to apply please contact Daniela Naab, 01 7060100 or call 087 6128740.
Growing My Confidence
The aim of this short part-time course in Personal Development is for you to learn how your thinking affects your live, your relationship and your future.  It will help improve communication with others, teach stress reduction techniques and support well being.   The course is designed to help you express yourself assertively, and is sure to increase the confidence and self-esteem.  It guarantees a fun and participative learning environment.
This course is specifically designed for women who left school early and want to get back to education.
When:  starting 11th October – 27th October
Tuesdays, Wednesdays and Thursdays 9.30am – 12pm
Where: Ballyogan Family Resource Centre, Samuel Beckett
Civic Campus
Tutor:     Hazel Boylan
We will still continue to facilitate our
International Women's Breakfasts
in
–  Balally FRC – Wednesday 14th September from 10am – 1pm
– Dun Laoghaire, County Council  – Wednesday 12th October from
from 10am – 1pm
International Women's Breakfasts are free drop in events organised every 4 – 6 weeks in different parts of Dun Laoghaire-Rathdown.
Poster will follow,  so watch this space!
For more information please contact Daniela or Marese on 01 7060100 or 087 6128740
Summary reports of the International Women's Breakfast workshops in 2015
January 2015:
A New year of growing our women's space where mutual respect, understanding and communication is celebrated.
IWB Jan 2015 summary
Summary reports of the workshops of International Women's Breakfast in 2014
February 2014:
How do we benefit from each other?  5th February - IWB for web
March 2014:
Information Fair about education opportunities in the county
May 2014:
Local Elections - what issues do women want to bring forward to their local candidates? pre-election supper resume May 2014
June 2014:
Summer places and activities.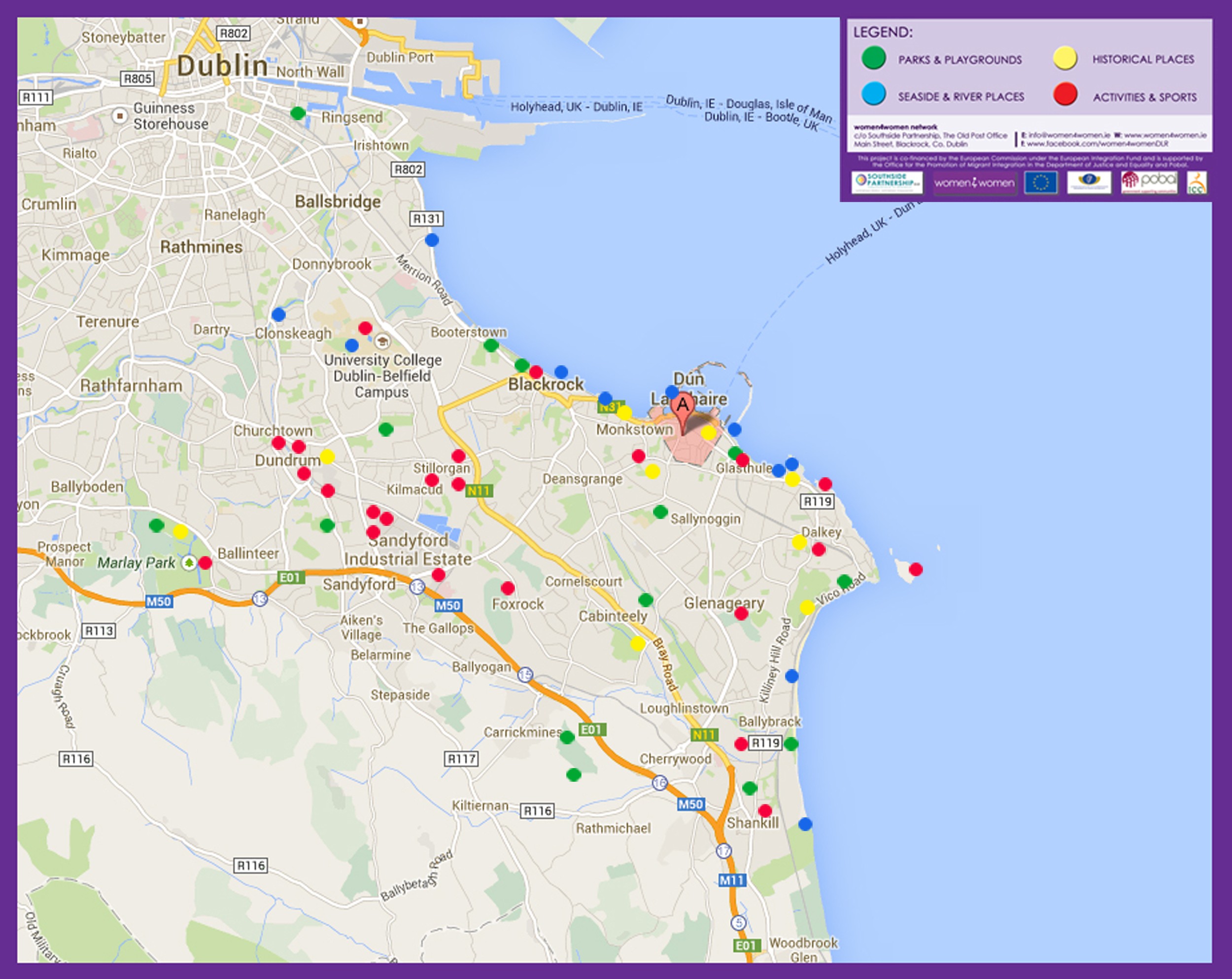 w4w Breakfast-CountyMapDetails
September 2014:
Activities in Community Centres - IWB 10th Sept summary
October 2014:
breakfast during Social Inclusion Week - Report breakfast in October 2014
November 2014:
How to be an active citizen? Summary of breakfast in November 2014
December 2014:
Highlighting the 16 Days of Action Opposing Violence Against Women - dec breakfast summary 2014
 

This project is co-financed by the European Commission under the European Integration Fund and is supported by the Office for the Promotion of Migrant Integration in the Department of Justice and Equality, and Pobal.
2014
Throughout the year
Since January 2014 Southside Partnership got funding from the European Integration Fund to offer a programme to migrant women throughout the year 2014.
The programme consists of training courses and a series of International Women's Breakfasts organised in conjunction with women4women network. This website gives you information about upcoming events and training.
May
The Women's Manifesto Group is still meeting  but we changed the name into Women' Voice Group DLR. A pre-election campaign and an event was held in May to inform thelocal  candidates election about the issues women face in the county.
November and December 2013
A women's space,information provision and workshops
November and December were two busy months. With the support of Southside Partnership, a wide range of activities took place:
Women4women opened up a space for women in Rosemount Resource Centre, Dundrum village. It's a space where women can meet, get information or just have a cup of coffee. The space will be open every Thursday from 10am – 1pm the Family Resource Centre, 3 Waldemar Terrace in Dundrum (beside the old shopping centre).
In conjunction with the dlr Ethnic Minority Integration Forum women4women organized two information sessions for migrants around how to register to vote in 2014.
12 Workshops were organized for the Chill Out Zone, a drop-in for women in Southside Travellers Action Group in Sandyford.
International 16 Days Campaign Opposing Violence Against Women from 25th Nov – 10th Dec
In conjunction with Southside Addressing Violence Effectively (SAVE) and the Southside Partnership women4women organized the following events to raise awareness:
International Women's Breakfast with a speaker from SAVE talking about the forms of domestic violence and the support available. Also the Southside Travellers Action Group introduced an Art Project focusing in domestic violence.
4 workshops for Transition Year Students in 2 schools in DLR about 'Healthy Relationships',
aposter campaign in Community Development Projects and Family Resource Centres to raise awareness around domestic violence and the 16 Days campaign 2013.
2014 will be another busy year working with and for the women in Dun Laoghaire-Rathdown. If you want to keep informed please look up the women4women website for further local updates and information.
October 2013
women4women website hit the 3000
The women4women website had 3083 visits in October 2013, that's 99 visits per day! Many thanks for taking up or service. We will continue to do our best to  inform you about local events and news from the area.
International Women's Breakfast with an avarage of 60 women attending
In June 2011 we started with the first International Women's Breakfast in Rosemount Family Resource Centre in Dundrum. Eight women attended this first gathering. Very quickly the word spread about this unique event and many women joined us in different locations since. An avarage of 60 women attended the previous 16 breakfasts  so far. On the day women don't just share food, they also share information and knowledge at the facilitated workshops. The workshops are organised by the women4women steering group. Twice a year, on International Women's Day in March in Marlay Houses and during Social Inclusion Week in October in County Council,  we celebrate and share food . These breakfasts are different.
For us meeting women from different cultures is really inspiring and we hope you enjoy it too. We will continue organising International Women's Breakfasts in 2014!
We would be delighted to welcome you (again) at the next breakfast! Please have a look out for the dates in the NEWS section on this website.