Highlights of the Women's Programme
Details of the Spring 2020 Women's Programme can be seen here.
A

Perfect

Global

City
Our recent Art Project under the WEMIN programme was invited to be part of an open exhibition called "Utopia/Dystopia". It will be on view in the Municipal Gallery, dlr LexIcon, Dún Laoghaireuntil the 26th of January 2020.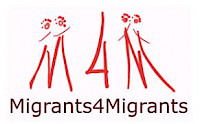 Migrants4Migrants are a voluntary group of women from diverse cultures, who offer a free confidential support/information service to migrants in DLR County in multiple languages. This wil take place in Furry Hill Community Centre every Wednesday from 10am-1pm.
The Southside Partnership Women's Programme was invited to a study visit to Austria as part of the MILE project. MILE - Migrants Integration in the Labour market in Europe aims to develop, implement and mainstream an effective model of integrated services for the integration of Third-Country Nationals into the labour market. During the visit participants from different counties got to know organisations from the public sector and private sector in Innsbruck supporting migrants into employment. It was very interesting to hear about activities supporting migrants, in particular about migrant skills assessment, training and job guidance services and methodologies.
This project was cofounded by European Union 821725-MILE-AMIF-2017-AG-INTE. For more information please look at https://projectmile.eu/.