Reports
A-Safe-Space Dun Laoghaire-Rathdown refuge - a feasibility study
Conversation on Power A Women's Conference Report from 2009
Posters/Events
16 Days of Action Opposing Violence Against Women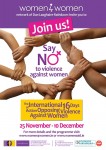 International Women's Breakfast posters

Leaflets
women4women DLR network
Domestic Violence Support Services in DLR and Dublin
Southside Addressing Violence Effectively (SAVE) -
SAVE pocket guide PRINTING side 1
SAVE pocket guide PRINTING side 2
European Integration Project for migrant women
booklet in different languages – w4w international booklet
Others
Historical Women's Project 2016
This Celebration Calendar can be bought for € 7.Please contact Daniela Naab in Southside Partnership on 087 6128740.
This reusable calendar is dedicated to highlight your special days and occasions like birthdays, wedding anniversaries, special notes and more. You can use it throughout the years to come.
The calendar is part of the Historical Women's Project and was led by Southside Partnership partly funded by Dun Laoghaire Rathdown County Council Heritage Grant.