We offer an ongoing variety of Arts and Crafts courses in different venues around the county.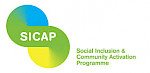 The following courses are taking place in Furry Hill Community Centre, Furry Hill, Sandyford Road, in Sandyford:
Jewelery Course
All women welcome - PLACES STILL AVAILABLE!
2019 Programme (Spring)
Thursdays from 10.00am - 12.00pm
24th January - 10th April 2019 (11 weeks)
2nd May- 27th June 2019 (9 weeks)
Registration: €25 per towards materials
Contribution: €5 per class
Please contact Rafika for more information on 01 422 1004 or 087 7203665 (Mon - Thurs)
Sewing Machine Workshop for Beginner & Intermediate Levels
Electric machines provided for all participants.
All women are welcome.
2019 Programme (Spring)
Tuesdays from 9.30am - 12.30pm
22nd January - 9th April 2019 (11 weeks)
30th April - 25th June 2019 (10 weeks)
Contribution: €3 per class towards materials
Please contact Rafika for more information on 01 422 1004 or 087 7203665 (Mon - Thurs)
Water Colour Painting
2019 Programme (Spring)
Fridays from 10am - 12pm
January 25th - 12th April 2019 (11 weeks)
Contribution: €25 towards materials
Please contact Rafika for more information on 01 422 1004 or 087 7203665 (Mon - Thurs)