We normally offer an ongoing variety of Arts and Crafts courses in different venues around the county. We have had to pause these courses do to government restrictions. Watch this space - we are working at ways to offer some of them online!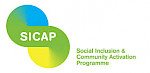 The following courses normally take place in Furry Hill Community Centre, Furry Hill, Sandyford Road, in Sandyford:

Paper Cutting Course
Jewelery Course


Sewing Machine Workshop for Beginner & Intermediate Levels
Electric machines provided for all participants.

Water Colour Painting
In Autumn of 2019 we enjoyed an exhibit of our collaborative art project as part of a European Women's project, WEMIN